Connor Pylant's Christmas lights display brings together two of his life's passions: technology and theater.
The 15-year-old Grants Pass High School sophomore uses computerized light controllers — four 16-channel units — to create a show of lights that flash on and off and fade to the rhythm of holiday music, and is also synchronized with a video projection of holiday images.
"I'm a techie and I'm really into theater," Pylant says. "This is what I love to do."
Pylant does all the outdoor decorating at his family home at 1255 Plummer Ave., off West Park Street.
He created a 12-foot "Christmas tree" by clipping strings of lights to the top of a central pole then anchoring the ends of the strands to the ground.
He wrapped strings of lights around tree trunks.
He draped four plywood Christmas tree cut-outs with green net lights.
He made Christmas tree-shaped frames out of wire tomato cages set on the ground with the wide end at the bottom. Then he draped them with strings of red, blue and green lights.
He cut a piece of white corrugated sign board into the shape of a 6-foot candy cane, striping it with red duct tape, then used a drill bit to poke holes to accommodate red and white lights.
He also strung lights on the front porch and along the home's roof line.
"I estimate, without the house and the candy cane, that there's 4,700-something lights out there," Pylant says.
"The five tomato cage Christmas trees each have three strings of 100 lights — 100 red, 100 blue and 100 green — so that's 1,500 lights right there."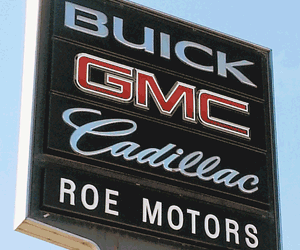 His projection screen is plastic poly attached to a PVC pipe frame.
He has speakers mounted in the trees to broadcast the Christmas music in the yard, and a small FM transmitter, so visitors can listen without getting out of their cars; just tune in to 104.1 FM.
This is Pylant's fourth year decorating his family home.
"The big display on that house behind Bi-Mart got me started," he says.
That first year he had just a single 16-channel controller and just a few lights.
"It's gotten a little bit bigger every year," he says.
He earns money for the project by doing odd jobs for family, friends and neighbors, and his grandmother Amanda Pylant also helps out with a few bucks here and there. She also lets him store the growing collection of decorations in her garage during the off season.
Pylant started designing this year's display in August, listening to Christmas music and deciding which songs to use.
"And I have to program the sequence for each channel, when to go on, off, fade, and when to display certain colors. That gets pretty chaotic," he says.
Pylant hones his skills in local theater.
He's done lighting for One Eleven Evelyn Theater Company shows and helps with designing their annual haunted house.
And he designed the lighting for the Barnstormers' holiday production of "Miracle on 34th Street," his first show with Barnstormers.
Next year, he's on track to do lights for Rogue Music Theatre, the spring show at GPHS and the summer show at Barnstormers, he says.
And he already has plans for his 2019 holiday display.
"I want to add DMX strip lights along the gutter and a pixel Christmas tree. I think that would be pretty cool," he says.
Pylant's light display is switched on 4:30-9 p.m. weeknights, 4:30-10 p.m. weekends.
———
Reach reporter Kathleen Alaks at 541-474-3815 or kalaks@thedailycourier.com.