CONCERTS
COMMUNITY SING: Sing-along with music from the musical "The Greatest Showman," 6:30 p.m. Friday, Central Point Library, 116 S. Third St., Central Point. Free; 541-664-3228, jcls.org.
COUNTRY: Mitchell Tenpenny,
7:30 p.m. Friday, Britt Music & Arts Festival, Jacksonville. $34-$49; 800-882-7488, brittfest.org.
ACOUSTIC: Oregon Old Time Fiddlers, noon-3 p.m. Saturday, Fruitdale Grange, 1440 Parkdale Drive, Grants Pass; admission by donation, chili feed fundraiser $12.
ON STAGE
DRAG: All the World's a Drag, 8 p.m. Saturday, Historic Ashland Armory, 208 Oak St., Ashland. $30, age 21 and older; roguepartybus.com.
EVENTS
ART: First Friday gallery walk, 5-8 p.m. Friday, downtown Grants Pass and Ashland. Free.
FAMILY FUN: Labor Day Festival, 10 a.m. Saturday through Monday, Jubilee Park, Cave Junction. Free admission; 541-597-4486.
BARGAINS: Rogue Gem and Geology Club Yard Sale, 8 a.m.-2 p.m. Saturday, 1003 Isham St., Grants Pass.
MORE BARGAINS: Southern Oregon Flea Market, 9 a.m.-2 p.m. Sunday, Jackson County Expo, Central Point. $1 admission.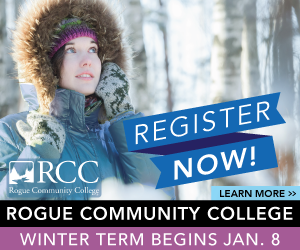 RACING: Horse racing, 1 p.m. Sunday, Monday, Grants Pass Downs, Josephine County Fairgrounds, Grants Pass. $5; racingontherogue.org. Continues Sundays and Mondays through Sept. 25, then Oct. 1-9.
ALBUMS
Dropping Friday:
ICONA POP: "Club Romantech"
SPEEDY ORTIZ: "Rabbit Rabbit"
THE PRETENDERS: "Relentless"
JEFF ROSENSTOCK: "Hellmode"
BOOKS
Released this week:
J. ELLE: "House of Marionne"
ALICE FEENEY: "Good Bad Girl"
KATHARINE MCGEE: "Reign"
LEONIE SWANN: "The Sunset Years of Agnes Sharp"
MARTIN WALKER: "A Chateau Under Siege"
JENNIFER WEINER: "The Breakaway"