CONCERTS
• ROCK: Legends of the Road: Music of Eric Clapton, 7:30 p.m. today through Saturday, Craterian Theater, 23 S. Central Ave., Medford. $24; 541-779-3000.
• PIANO: Madeline Abel-Kerns and Alexander Tutunov, 7:30 p.m. Friday, SOU Music Recital Hall, 450 S. Mountain Ave., Ashland. $20; 541-552-6348.
• ROCK: Music by Daisyhead, Fossil Youth, Sundressed, Laurel Ave., Southwest Royal, 6 p.m. Monday, Eaden Ballroom, 244 S.W. K St. $7.
• FOLK: Holly Near, 7:30 p.m. Wednesday, Havurah Synagogue, 185 N. Mountain Ave., Ashland. $20-$30; 541-488-7716.
ON STAGE
• ONE-ACTS: "Family Values" and "Puzzle Pieces," 7 p.m. today and Friday, Hidden Valley High School, 651 Murphy Creek Road, Murphy. $3-$5; 541-862-2124.
• DRAMA: "Summer People," 8 p.m. today and Friday, 2 and 8 p.m. Saturday, 2 p.m. Sunday, SOU Theater, Ashland. $18-$21; 541-552-8196.
• STAND-UP: Rogue Comedy Festival, 6 p.m. Friday, Rogue Building, Rogue Community College, 3345 Redwood Highway. $10-$15; 541-956-7033.
• MUSICAL: "Jacques Brel is Alive and Living in Paris," 7:30 p.m. Friday and Saturday, 1:30 p.m. Sunday, Collaborative Theatre Project, 555 Medford Center, Medford. $15-$25; 541-779-1055.
EVENTS
• MOTHER'S DAY WEEKEND: See Page 1B for suggestions of what to do with Mom this weekend.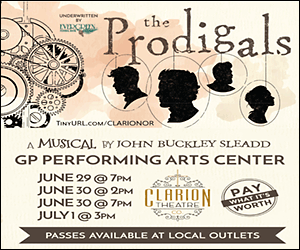 • SPIRITS: Little Woody Festival, 5-10 p.m. Friday, noon-10 p.m. Saturday, Harry & David Field, Medford. $12-$30; roguebrewfest.com.
• FAMILY FUN: Rogue Valley Bird Day, 8 a.m.-noon Saturday, North Mountain Park, 620 N. Mountain Ave., Ashland. Free; 541-488-6606.
• FAMILY FUN: Culpepper and Merriweather Circus, 5 and 7:30 p.m. Monday, Junction Inn, 406 S. Redwood Highway, Cave Junction. $7-$13; 866-244-8676.
CDs
Dropping Friday:
• DANZIG: "Black Laden Crown"
• PARAMOUR: "After Laughter"
• TODD RUNDGREN: "White Knight"
• SEETHER: "Poison the Parish"
• HARRY STYLES: "Harry Styles"
• ZAC BROWN BAND: "Welcome Home"
BOOKS
Released Tuesday:
• W. BRUCE CAMERON: "A Dog's Way Home"
• SHERRILYN KENYON: "Deadmen Walking"
• DENNIS LEHANE: "Since We Fell"
• KATHY MCKEON: "Jackie's Girl"
• JO NESBO: "The Thirst"
• AMANDA QUICK: "The Girl Who Knew Too Much"
• CONDOLEEZZA RICE: "Democracy: Stories from the Long Road to Freedom"
VIDEO
Released Tuesday:
• "fifty shades darker": Sequel to the sexy hit, based on the bestselling books series. R
• UPCOMING: Due May 16 are "The Space Between Us," "Resident Evil: The Final Chapter," "xXx: The Return of Xander Cage"